The Greatest Luke Falk Story Ever Told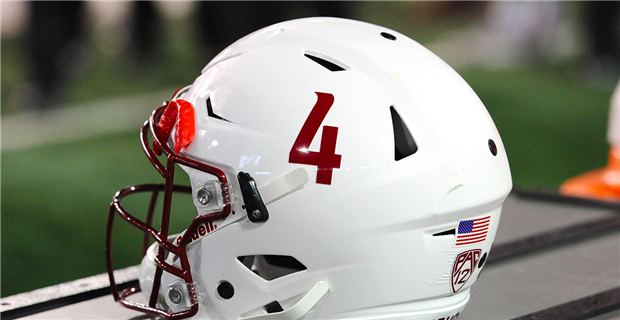 (Photo: James Snook, Getty)
TO SUPPLANT Ryan Leaf and Jason Gesser atop the Mount Rushmore of great Washington State quarterbacks, Luke Falk has his work cut out for him. But on the eve of his fifth and final season in crimson, he's already entered the pantheon of crimson lore. This season will simply determine where in the line up he will be placed.
No matter the outcome, he owns one bit of WSU history all himself. Mark Rypien and Drew Bledsoe were national recruits; Leaf, Gesser and Jack Thompson each had multiple scholarship offers; Timm Rosenbach was a coveted uber-athlete up the hill at Pullman High; and Alex Brink already had accepted an offer to be Boise State's next marquee QB.
Luke Falk was a walk on from Logan, Utah.
Granted, he was no ordinary walk on, which we knew the day he arrived, but he was mostly an afterthought behind Tyler Bruggman, the Cougars' 4-star QB signee in that 2013 class.
And now here we are talking about his place among the immortals.
"Talking" is the operative word, by the way.
While Falk is affable and articulate in interviews, he doesn't wear his emotions on his sleeve and tends toward talking about teammates more than himself.
So, taking a page out of the Sports Illustrated playbook, we decided to get the full story on how Falk arrived at the precipice of Heisman consideration and what makes him tick. We went to those who know him best: family, childhood friends, former coaches, teammates and current coaches.
In their own words, here's what we learned about Washington State's newest true legend:
THE FARMINGTON FLASH
Chris Roybal, Little League coach and family friend:
"When he was 12 his prospects for being a baseball player were greater than being a football player. I told his parents he was going to have a big future in baseball. Or golf - he was a natural at golf … Great pitcher, with a live arm and the body for it … He was an absolute joy to coach, always a team-first guy, and a lot of fun as a teammate. Every kid on the team liked him, which you can't always say about an elite athlete … I remember playing for the championship in a tournament and my son Hunter booted a ground ball that lost the game. He was devastated but Luke, who was pitching, wouldn't have any of it — he went up to Hunter and said that he (Luke) was responsible for not shutting the other team down when he had the chance. That really meant a lot to my son."
Dad Mike Falk:
"I had the opportunity to spend a lot of time on the field with Luke, either assisting or acting the role of the head coach in baseball, basketball and footballfrom age 7 up into high school– including being the offensive line coach of his freshman team. In football, when he was very young, I was thinking he would be a great tight end. He had the size butdidn't like to hit,so defense wasn't an option.My brother Eric (a long-time d-line coach at Logan High and a former Utah State defensive end) called me up and said, 'Hey, bro, he's a quarterback.' Are you kidding? I wanted my son to be 'tough.' I come from a family of linemen and thought of QBs as not tough enough to play the line (laughs). Eric was emphatic: 'He's a quarterback.' Luke was our QB his first game (of youth football) and every game since ... In junior high, we used to run a scaled-down version of the spread thanks to (Logan High coach) Mike Favero who taught it to me, Luke and five receivers for five hours one hot afternoon in a non-air-conditioned Logan High School class room. We'd try to get single coverage match ups with our tallest, fastest receivers. Luke would adjust the offense to get the matchup he wanted, then just lob the ball high over their heads and we'd score most of the time (laughs)."
Wick Udy, Former Traveling Team Baseball Coach:
"He's a very humble kid, but when he stepped over the white lines he was a true competitor. He never let anything get him down. He was a tall, lanky kid … by far, the best pitcher on our team. He started out the year with just one pitch, a four-seam fastball. By the end of the year, he'd figured out a two-seam fastball, a good curve ball and he (also) figured out his change-up. I was really disappointed he didn't pursue baseball. I know he's been a great quarterback but he would have been a top-five-rounder in baseball, no kidding. He would have been throwing 95 miles per hour with at least 3-4 pitches. He's done really well being a quarterback, but he would have been an even better pitcher."
Uncle Jeff Anderson (a former Utah State basketballer):
"Growing up, he had one of the prettiest jump shots I've ever seen. I believe in my heart he could have gone either way, basketball or football … When he was a sophomore (at Logan High), they were doing a two-quarterback system with another really good quarterback, and Luke gets his first shot the second series. On the third play, he throws a 20-yard touch pass over two linebackers, in between the safety and the cornerback, and hits the tight end right in the numbers -- it was one of the prettiest passes you've ever seen. And it hit me right then (that quarterback was his destiny). I told my sister (Luke's mom) not many kids in the country can make that throw … I couldn't be more proud of what he's done and what he's accomplished. Regardless of whether he makes the NFL or is the greatest QB ever in the NFL, he's going to do great things in life."
Hunter Roybal, close friend since childhood:
"Luke has always been super fun to watch in every sport since first grade. He was the best athlete of all our friends, but in eighth grade (at Farmington Junior High) we were playing Mueller Park in basketball — a tense game going down to the wire and Luke hits the game-winning shot at the buzzer, a fade-away jumper in the key. He wanted the ball. He had ice water in his veins. Everyone was going crazy. From that moment, I knew he'd start doing big things — though I thought it would be in basketball or baseball. He was an ace pitcher."
Mom Analee Falk:
"When Luke was around 10 or 11, he won the junior club championship in golf and then the MVP award at both the Davis High football camp and the Brad Barton basketball camp — of course, he didn't tell us he won those awards, we learned about 'em from other parents. But that's the time frame when I realized he was a special athlete. As time went on, I think everyone on my side of the family — we're all basketball players — thought he would be Division I in basketball. Basketball was his passion until he discovered the spread offense at Logan High. He came home one day and said, 'Mom you're going to have to cope with this because I was born to be a quarterback, not a basketball player.' I said OK. But I must say that being a quarterback mom, with the highs and lows and the injury possibilities, isn't always easy."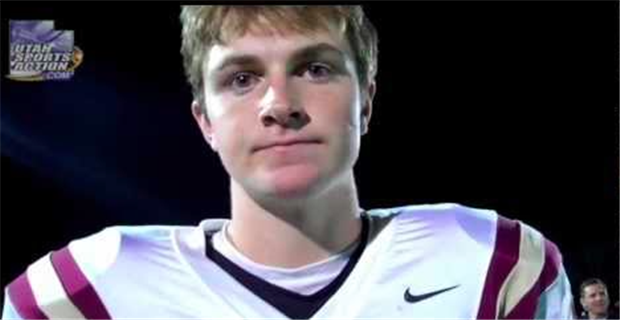 Young Luke:
Shattered passing records
as a senior at Logan High.
THE GOOD NATURE
Sister Natalee:
"He was really fat as a baby so everyone loved to love on Luke and he'd just let everybody do whatever. So calm. There was this one baseball game my dad wanted Luke to be really aggressive in, he was in the outfield looking at the butterflies. He was such a super-kind kid, just relaxed about life. He really only got so competitive I would say in high school."
Cindy Roybal, family friend and mom of Hunter:
"We've been friends with the Falks from the time our boys started in Little League in Farmington (Utah) … The Falks aren't Mormon but you can imagine how many Mormons there are here in Utah. As a Mormon mom, I can tell you Luke is an example of the type of kid all good Mormon moms want their kids hanging out with. He has the greatest manners, so polite, and always making good choices. Even though Luke isn't Mormon, he acted like he was (laugh). He didn't party. At every age, he made good choices."
Parker Taggart, close friend since childhood:
"When his parents were out of town, he'd stay with us and go to (the LDS) church with us and fit right in ... He's always been a way good kid -- nothing stupid, no party animal. He's a better kid (chuckle) than most of my Mormon friends. To this day, he's still my mom's favorite out of all my friends. She just loves him, almost like a second son."
Chris Roybal:
"One thing about Luke that is impressive to me is that his family had the means where Luke could have very easily been a spoiled kid with camps, the best equipment and so on but he wasn't at all, ever. He acted like a kid who came from the wrong side of the tracks, just focused on working hard to make it. He's such a likable young man."
Grandma Anna Anderson:
"He understands how to treat people. He's always been very humble and never bragging or anything like that. But if he doesn't like something, he knows how to tell you. He has a little spunk in him when he knows he's right and you're wrong (laughs) … He was my buddy growing up. I'd go get him and we'd spent a lot of time here (in Deweyville, Utah). I'd feed him breakfast and about an hour later it was, 'What are we having for lunch?' He had a good appetite … We'd go to games at Utah State — I had seats right next to the tunnel where the players would come out — and he'd high-five everyone coming out. He spent a lot of time at my house. Luke and I have always had this bond, he says, 'We're two peas in a pod, Grandma.' All along, I knew he had exceptional ability. He could have been a fabulous basketball player. He was always very smart, very competitive. When he won the Sun Bowl most valuable player, he called me up and said, 'Grandma, you're my most valuable player.' When he came home, he gave me his trophy. Oh my goodness, that was so special."
Sister Alexa:
"Luke is such a 'taking-care-of-the-underdog' kind of person. When he was a little boy, teachers would cry about him because he has such a big heart. Luke was such a sweet little kid. He had the biggest hair and these big blue eyes and he was very sensitive."
Wick Udy:
"This is a good example of the type of kid Luke is: After a game all the other kids would break off and leave but Luke would stay behind and help my wife, and we had two young kids at the time, he'd help my wife take all the chairs out to the car. Even though he was very, very competitive on the field, he was so mindful of his surroundings. That's very unique for a 14-year-old kid."
Eric Mele, WSU assistant coach:
"If I was 20 years younger, I'd be hanging out with the old boy on the weekends. He comes over to the house and it's kind of like a big brother deal. My daughters all just know him as Luke, not like the big star quarterback, just Luke. They all have his jersey at the games and stuff like that."
Cole Madison, teammate and close friend:
"He might be an undercover vegan — all organic, shops at the co-op, won't eat anything unless it has spinach in it. Big on coconut milk, all that vegan stuff. He knows better than to try and (force any of it on me). He also might be the greatest man I've ever met, inside and out. He cares about everybody, always looking out for the person next to him. He'll give the shirt off his back to a complete stranger if he's in need. He's just that kind of person, and I think everybody should know that."
Peyton Pelluer, teammate and roommate:
"I love when he comes into the defensive huddle on the sidelines during a timeout. He always has something good to say. He's always encouraging us. It's the little things like that I appreciate from a leadership standpoint. If I ever find myself slacking he'll always point it out and it's the constructive criticism I really appreciate."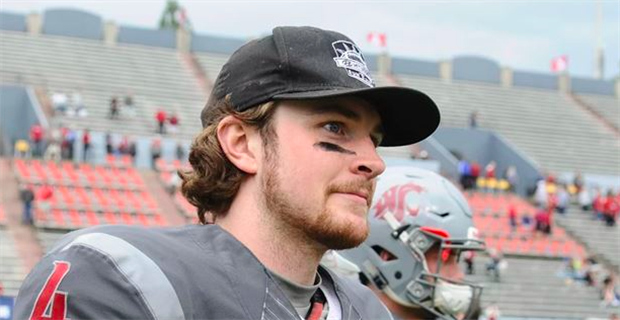 On pace to be most prolific passer in Pac-12 history.
THE DRIVE
Parker Taggart:
"Luke will never be out worked. When we were 10 I remember him analyzing game film with his dad. What 10-year-old does that? He wanted to do it. He always wanted to be the best and did everything he could to get there ... His competitive nature is off the charts. He's the most humble, genuine, caring guy I've ever met but he's super competitive. That's his thing. In basketball, playing one on one, he'd beat me 98 or 99 times out of a 100 and not ever allow it to be close. Same thing with wrestling. We'd wrestle as kids and he'd beat the crap out of me ... The cool thing about Luke is that given how good he is he could be cocky but he's not."
Kathleen Cottle, Logan High teacher:
"When Luke was applying for colleges, he would come into my classroom at lunch and work on his applications. He was really busy, he had an active social life and all sorts of things he was doing, but he wanted those college applications to be good and he wanted his college essay to be excellent. I've taught 26 years and I've never had a student come in during lunch and work on their apps."
Uncle Jeff Anderson:
"We have a little dog, Coco, and we put some logs up so he couldn't get out of the yard under the fence. Luke made it his personal mission to keep Coco from getting out into the neighborhood and his dad made him a bet he couldn't do it. Luke was out there for two hours putting barriers up everywhere. And an hour or two later, there's Coco having made it out. It made Luke so damn mad (laughs)."
Isaac Dotson, teammate and roommate:
"We were playing Mario Kart and we had a 50-game streak going and Peyton (Pelluer) and I were secretly teaming up on Luke. But he rallied back. It got to a point where it was one more game until Luke was about to take the lead. And Peyton said, 'Dot, I'm going to turn off the game right before he wins and see how he reacts.' So it's super late and Luke is about to win and Peyton turns it off. And Luke is just sitting there stone faced, super mad. He gets up, chucks the remote and says, 'You guys don't have a competitive bone in your body!' We always do little pranks on him. I swear, he remembers every score of every single game that we've ever played."
Peyton Pelluer:
"We always give him crap for Baker Mayfield beating him two years in a row for the Burlsworth Award. In 7-on-7, we'll say 'Baker would have made that throw'. And whether it's video games, or playing ping pong, he just gets so competitive. We definitely get after each other."
Mike Favero, now-retired Logan High head football coach:
"Luke is a smart, cerebral, intellectual kid. We spent most of our time together training to break down defenses. My goal was to make him a defensive coordinator -- identifying and responding to 4-4-3 deep, 5-in-the-box and on and on ... Alex Grinch is pretty good but Luke is right up there (laughs). His ability to process information quickly is the best I've ever seen. He can see defenses -- structures, matchups, schemes -- and process all the variables in a split second. He's passionate about it. He's passionate about being the best."

Jim Mastro, WSU assistant coach:
"There's a reason he's this good: he works his butt off … The thing I noticed his first year was how involved he was. Even on game day, even though he was redshirting that year, he would let you know what he was seeing. He was always involved in the game, constantly engaged, constantly trying to give us his ideas, even though we told him to shut up half the time (laughs) … Luke picks my brain a bunch — he always wants to gain knowledge, he always wants to know why. He's like a sponge, he just absorbs it all. He always says, 'Coach you have street cred,' (laughs) because I've been around so many different places and so many different offenses and he just wants to know. It's pretty refreshing to have a quarterback as good as he is who doesn't think he knows it all."
Hunter Roybal:
"In senior year of high school I was at his house and noticed he had taped a picture of Tom Brady on his bathroom mirror. We both loved Tom Brady, but this was a whole new thing. I asked why the picture was on the mirror. He said, 'I'm going to the NFL one day and that picture is there to remind me that I'm going to the NFL.' I gave him a hard time about it. I knew he'd be successful but not to this degree with a chance at the NFL … I went on an LDS mission for two years (after high school) and contact with friends is limited. I'd get these emails from my mom, 'Luke passed for 500 yards and 5 TDs against Oregon State' and then the next week 'Luke passed for 400 yards and 4 TDs' and 'Luke threw a TD pass in the final second to win the game.' I would say to myself, 'This is actually happening.' I tell Luke I stand corrected for giving him a bad time about the Tom Brady picture."
THE DERAILMENT
Mom Analee:
"Logan was amazing. Luke was meant to be there. Oaks Christian (the California prep powerhouse where Falk transferred ahead of his junior year of high school) was just hell, on and off the field. I don't want to get into it but the short version is that he transferred back to Logan after three games, was deemed ineligible to play for the rest of the season and subsequently fell off the recruiting radar. When you don't play your junior season (of high school) you are in trouble. The offer from Florida State was yanked and suddenly we realized you should never take a recruiting letter for granted ... Luke got a chilly reception at first when he returned to Logan but being who he is, they embraced him after two weeks. He spent the season filming the games and being a guest commentator during the playoffs. They won the state title that season, which was tough not to be part of ... In retrospect, the mess of the California move turned out to be an unfortunate situation with a fortunate outcome because it made Luke so strong mentally. He will never take a day for granted as a result of that experience. That's why he's relentless — because he knows it can be yanked from you in a nano second."
Dad Mike:
"The whole California thing Ifelt badly about -- and have no regrets. The past can be a great teacher -- offering learning and gratitude. Luke embraced both. It was a tough time and a lot of tears -- and adding to the situation was Luke's mom and I being separated. Luke got a taste of adversity and proved he could handle it. People often ask me about being 'successful'. My answer is simple and always the same: success is how we recover. I'm proud of the way Luke handled it. I am proud of the way he recovered and continues to be 'successful' ... When he was ruled ineligible after getting back to Logan, I'd never seen him angry before but he was and it came out on the basketball court. I had spent years earlier, to no avail, offering him incentives if he would 'just get a charging foul.' That basketball season, after sitting out of football, he fouled out of every game the first month -- it wasn't a coincidence."
Coach Favero:
"When Luke came back (from California) and the state said he couldn't play, I treated him like a graduate assistant. He became our film guy. It wasn't the situation he wanted but he embraced it. He didn't let it deter him. More than anything, the move to California and back showed his perseverance. A lot of what you see in Luke now was on display then -- a humble, unassuming guy with a passion to be great and to dream regardless of the hurdles ... For me, the lack of recruiting interest from 119 Division I schools was very frustrating. Outside of Cornell, Southern Utah and Idaho, many coaches told me they didn't think he was good enough. And now he's sitting on top of the hill!"
Jason Gesser, then-Idaho offensive coordinator:
"At Idaho, you don't have the luxury of just looking at the top-rated quarterbacks in the nation. You have to research thoroughly and I found film of Luke from his sophomore year and really liked what I saw — accuracy, quick release, athleticism in and out of the pocket — but I couldn't find any junior tape … Talking with him on the phone, he really had the "it" factor … I tried to convince Coach Akey to make this kid an offer off of two-year-old film. He (Akey) loved him but said 'something must be wrong — why is no else offering?' Luke came up on an unofficial visit and we told him if the first two games of his senior year are what we expect, we'll make the offer. And we did. But with the (subsequent) head coaching change and me not getting the job, the offer was pulled by the new staff."
OFF THE FIELD
Sister Alexa:
"I'm five years older than him so I was always the one in charge when my parents would leave. To help him fall asleep, I would hum a melody and he would have to guess the song. And he loved that. He and I have always had a connection through music and Luke is actually very talented musically -- he just prefers sports. One of the things nobody knows about is he actually sang on one of my songs. I got him to do a little duet with me. And he had talked to me about doing a Cougs song -- we're recording it ... and we're going to put it out hopefully before the season."
Isaac Dotson:
"He's taking guitar lessons now. His sisters are obviously big country singers and this summer he said he was going to start taking lessons. There's this music shop just down the street from us. I hear him practicing in his room and he's actually pretty good. I've heard him playing some Pearl Jam and he said he's working on a Pink Floyd song."
Sister Natalie:
"People don't know how funny he is. My mom's brothers are also hilarious so when we all get together, Luke can hang with the best of them. He's very different in his interviews after games. But if you get to know him, he's hysterical. He grew up with girls, me and my sister, so we used to dress him up, we'd play with dolls, he did the whole thing. So Luke had to learn to hold his own from a very young age because Alexa and I dominated every conversation. So the fact that he's so funny is shocking because he couldn't get a word in edgewise growing up."
Parker Taggart:
"His family took me on a couple of cruises with them when we were young. This one time we went on a shore excursion in Tahiti to swim with stingrays and sharks. We were so terrified -- just had the crap scared out of us -- that we had to hop on the backs of Natalee and Alexa for safety."
THE EARLY WSU DAYS
Eric Mele:
"On Luke's unofficial visit (the summer before his senior year in high school), his dad was the savvy businessman. And his mom was just being mom — great personality, great lady. Analee and I were just going back and forth on stories about when Luke was a kid. I was an offensive quality control coach back then and Luke was my guy coming in. He was 'my' recruit … (Two years later) on his first touchdown pass (an 84 yarder vs. Portland State as Connor Halliday's backup), he almost got to his third read and Dom Williams happened to be open deep and he hit him. On the phone afterwards, people think those conversations are always some great X's and O's discussions, and sometimes they are, but that one between us after that TD was just both of us yelling and screaming (with excitement) into the phone."
Cole Madison:
"When we first got here as freshmen we were all sizing everybody up and I thought, honestly, that Luke was like a baseball player. I think it was at dinner I sat next to him and we started talking. And ever since then we've been inseparable …. One of the funniest stories — we're all comfortable now with (strength coach Jason Loscalzo) but our freshman year, first week and everyone is doing the bag roll. Coach Loscalzo is out watching and everyone is scared to mess up in front of him. And of course first rep, Luke knocks over every bag in the agility drill. Loscalzo stops the whole thing; 'What's your name?!' he asks. 'Lucas Falk, sir!' I always joke with him about that -- Lucas Falk. He might have thrown his middle name in there too … My favorite on-field memory is probably the first touchdown pass he threw. I don't know if he remembers this or not but I'm pretty sure that play was a run call and he checked it to a pass." (Editor's note: After the TD, Madison lifted Falk completely off his feet in celebration.)
Jamal Morrow, teammate and roommate:
"I think he was the first person I met here — came right up to me with a firm handshake. I really had no idea who he was at the time because the only quarterback I knew about was Tyler Bruggman … Luke was just a workaholic. During our Thursday night practices he would go and take notes afterwards on every single play. The preparation and passion he has for the game is really him in a nutshell. He's a real goofy guy outside of that. But at the end of the day, he's really focused."
Isaac Dotson:
"I first met him in the dorms. He was playing video games, wearing this Tom Sawyer straw hat. That first year Tyler Bruggman was here and a few other quarterbacks, so Luke had that 'walk on chip on his shoulder' and something to prove. He's always had that competitive edge to him. That spring (when Falk supplanted Bruggman as No. 2 behind Connor Halliday) it most showed off the field. He was always watching film and doing extra things to give himself an edge. He had an awesome spring."
Peyton Pelluer:
"I'll never forget the spring he was competing with Tyler Bruggman. He was just out there directing traffic, being a commander. I could see it when it was split reps and 7-on-7, I could just see it in his demeanor and how he played with a chip on his shoulder. And he still does to this day. And you see him do all that as a roommate and then he comes home and he's humble, like nothing special just happened."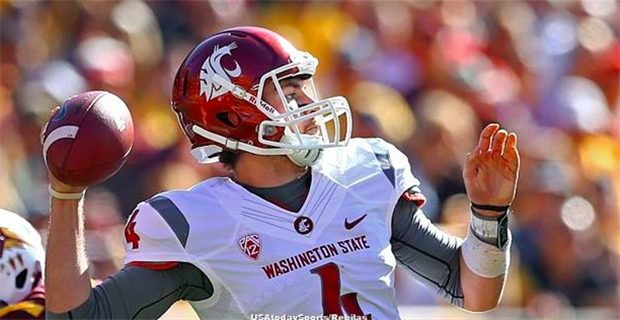 On the watch list of every
national quarterback award
.

THE ROOMMATE
Jamal Morrow:
"He's a great roommate. He always wants us to come downstairs and hang out together. He'll go on these cleaning binge sprees. Once he gets in that mood, he just goes. He's like one of those cartoons when you fast forward it …"
Peyton Pelluer:
"He had his Logan High beanie when I first met him — I didn't know necessarily what position he played even. But he's been a great roommate these past four years, for sure. He pushes everyone else in the house to go in early and stay late -- he's definitely made me a better player, I know that. And he'll get in these moods and just clean the whole house. We'll just go along with it. If you just get in his way a little bit he'll snap on you a little bit, which is kind of fun."
Isaac Dotson:
"I wish you could show people how much of a goofball he is, he's always cracking jokes. What people see is he's all about business and winning, and he is, but at the same time off the field he is a fun dude, fun to live with and fun to be around."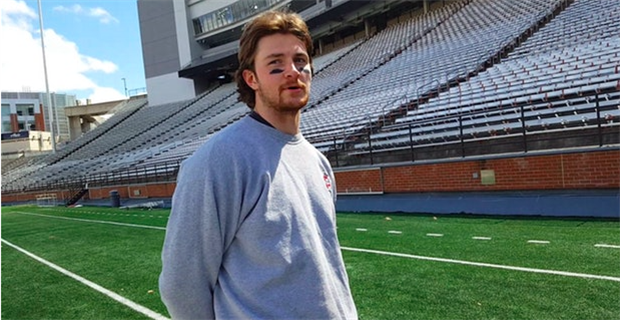 CBSsports.com and NFLmock.com both project Falk for the first round of NFL draft.
RELATED STORY: An Iranian immigrant helped fuel Luke Falk's rise
Source : https://247sports.com/college/washington-state/Article/The-Greatest-Luke-Falk-Story-Ever-Told--105856618